Home Page › Home › Our Heritage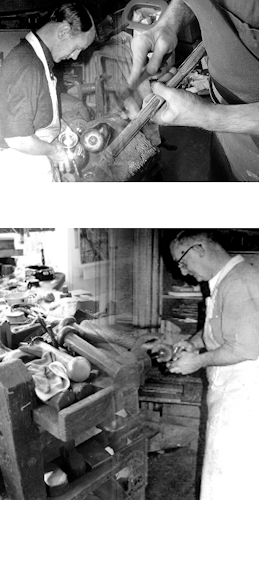 Scottish Silversmiths
Specialising in antique silverware and silver repair, we can trace our silver roots back to 1497.The Hammermen of Glasgow were already an influential and affluent trade of the Burgess, before it became a city. The Hammermen, whose motto remains "By hammer in hand all arts do stand" were incorporated in 1536 to protect their members from infiltrators and to establish a standard of workmanship. In the hundreds of years since incorporation, Glasgow's Hammermen produced some fine pieces of silvermith work which still occasionally come into the Morrison-Ignatieff workshop for repair.
One of Morrison-Ignatieff silversmiths ancestors was William M.Duncan who in the late 1920′s left his employer ,"Fettes" at Parliamentary Road, Townhead, to set up his own silversmith business, eventually moving to 119 Virginia Place. For a few decades, another of Fettes' apprentices' Harry Falconer set up business in Cowcaddens, avoiding direct competition by specialising in church silverware. Morrison-Ignatieff now houses a collection of drawings, some of Mr.Duncan's and some even earlier, as well as Alf Walker's chasings of Glasgow patterns used to carry out significant silver commissions for the city, its churches, and its regimental silverware. Alf Walker was an independent Chaser who in his career worked on the Scottish Crown and was often employed by Mr.Duncan until his retirement in the 1950′s. The silversmith workshop also retains his collection of silversmith chasing tools.
Mr Duncan passed the silversmith business to his former apprentice Murdoch Fletcher in 1955, who took on a partner Bob Angell, thus creating Angell & Fletcher. Bob Angell was an excellent box maker trained in London. One of Angell & Fletcher's silver commissions was the "Silver Spear of Peace" for JoMo Kenyatta.
If you are interested in finding out more about our more about our Scottish Silversmiths just email us info@visionsinsilver.co.uk or call the workshop on 0141 204 1083.